Boston Celtics: A modicum of hope swirling in Beantown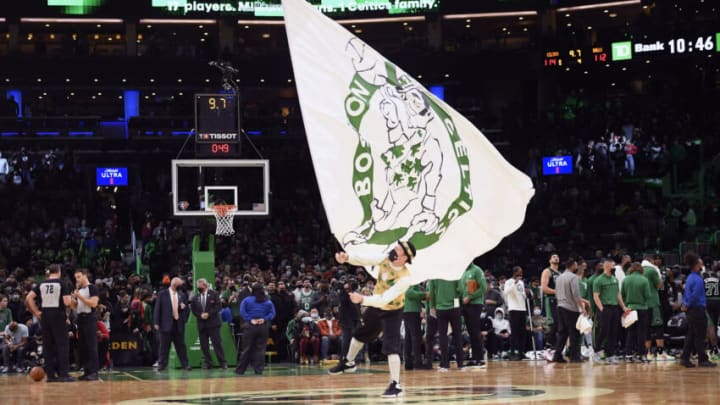 Boston Celtics mascot Lucky Mandatory Credit: Bob DeChiara-USA TODAY Sports /
Winners in four of their last five games, the Boston Celtics finally seem to be piecing together some momentum.
The upcoming week provides a perfect opportunity to capitalize on that, with three straight home home games before hitting the road next Sunday.
Despite their recent success, optimism is tempered with this team. True to this season's form, the Celtics have performed all over the place, ranging from outstanding precision to abysmal basketball. They've won in routs and close games alike. And the lone loss in this stretch was a game the Celtics were never really in, despite a late run from the Boston reserves.
Still, notching wins is the most important thing and there are more winnable games for Boston on the horizon.
Boston Celtics: Upcoming week
Even with this recent stretch of victories, the Celtics have fallen to 11th-place in the Eastern Conference standings. That admittedly doesn't carry a lot of weight at this point in January, as Boston (22-22) is only 6.5 games out of the top spot.
A victory over the Chicago Bulls on Saturday night helped. So, too, could upcoming games against teams above them in the standings.
On January 19th, Boston welcomes the Charlotte Hornets to town. The Celtics defeated Charlotte back on Oct. 25th, a 140-129 overtime victory in which Jayson Tatum and Jaylen Brown combined to score 71 points.
Charlotte has been playing good basketball as of late. They've won 7 of their last 10 and play the New York Knicks prior to heading to Boston.
The Celtics get another conference foe when they travel to play the Washington Wizards on 1/23. Boston is 0-2 against the Wizards this season, both games occurring in late-October. They dropped the first game by nine and then fell a few days later by three in double-overtime.
Boston's week begins with a Monday midday game against the New Orleans Pelicans in their first matchup of 2021-22. And on January 21st, the Celtics host the Portland Trail Blazers. Boston defeated the Trail Blazers 145-117 back in December and will again be facing an undermanned Portland team.
Buoyed by Tatum and Brown, a 4-0 week is achievable and 3-1 is acceptable. But it is the play of a third player in which success might hinge on.
Boston Celtics player spotlight
The full arrival of superstardom for Robert Williams III is nearly upon us.
While we're not quite there yet, the play of Williams has been consistent and his rise towards an elite level has been something to behold.
Williams has enjoyed quite a productive January. In seven games, his scoring (9.9 ppg) is slightly down from previous months. It is in the rebounding and blocked shots departments in which Williams is shining.
Rebounds stand at 10.4 per game in January, and the "Time Lord" is averaging 12 in his last four games. He closed out the calendar year doing the same thing and, in his last 12 games, Williams has pulled down 10 or more boards eight times, averaging 11.2
He's been a delight on the defensive end, too. Doing his best to lock down the paint, Williams is averaging three blocks per game this month for the Celtics. He had a two game stretch against the Knicks in which he posted 12 blocks over the two games combined, and has had at least one blocked shot in 16 straight games.
Williams is an integral part of this Celtics team. Making him more of a focal point in the offense, especially as a facilitator, has improved Boston. The Celtics still aren't where they need to be, and they could use some outside help in the form of an experienced three-pointer shooter, but a positive week ahead will turn the modicum of hope up a notch. Not quite to an 11 but slowly getting there.