Patriots Make Surprising Decision on Veteran Wideout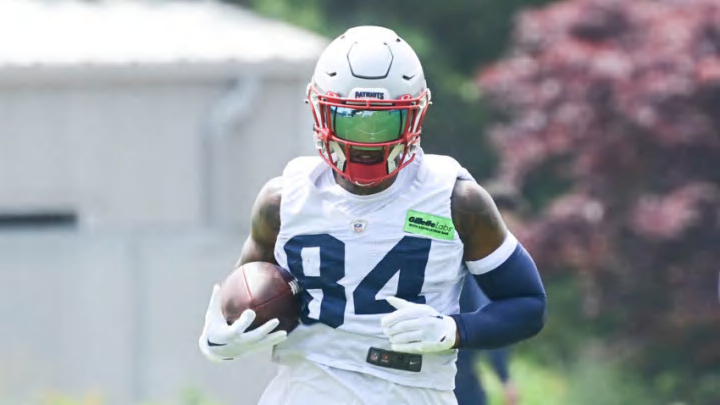 The Patriots decided to keep Kendrick Bourne around after all: Eric Canha-USA TODAY Sports /
The run-up to Tuesday's 53-man roster deadline was chaotic across the NFL, especially for the Patriots. They were notably busy in the trade market, shipping out Pro Bowl kicker Nick Folk to clear a spot for rookie Chad Ryland.
While that move wasn't totally surprising, it was a bit surprising to see New England hold on to one of its veteran receivers, especially given the heavy interest he was receiving.
Patriots Trade Rumors
According to NFL insider Jeff Howe, the Patriots received several calls from other teams regarding the availability of wide receiver Kendrick Bourne. New England did not engage, however, telling them that Bourne was unavailable.
On the one hand, this is fairly surprising. Bourne is coming off a down year where he managed just 35 catches on 48 targets for 434 yards and 1 touchdown — well below the 55-70-800-5 line he posted for the Patriots in 2021. There were concerns about Bourne's usage and his fit in Bill O'Brien's new offense this year, and whether he'd be able to bounce back.
As we just saw with Folk, Bill Belichick can be quick to move on from players who don't fit his roster plan, so it's a bit shocking that the 28-year-old wasn't moved, especially if other teams were interested.
On the other hand, it makes sense why Belichick is keeping Bourne around. He's shown great chemistry on the field with Mac Jones during the preseason, serving as his security blanket. Trading Bourne would have been a major setback for Jones, who already has a limited receiving corps in the first place.
Apparently, Belichick is confident in Bourne's ability to play a major role in the offense and rebound this year. Bourne better, otherwise Belichick may regret not trading him when he had the chance.
One thing Patriots fans won't regret is signing up for Caesars Sportsbook, which has an incredible $250 welcome offer. Just click on the exclusive Chowder and Champions link below and you'll unlock a $250 bonus that pays out whether your bet wins or loses. This promo won't be around forever, though, so cash in now before it's too late!