Red Sox Just Need to Put Justin Turner on the Injured List Already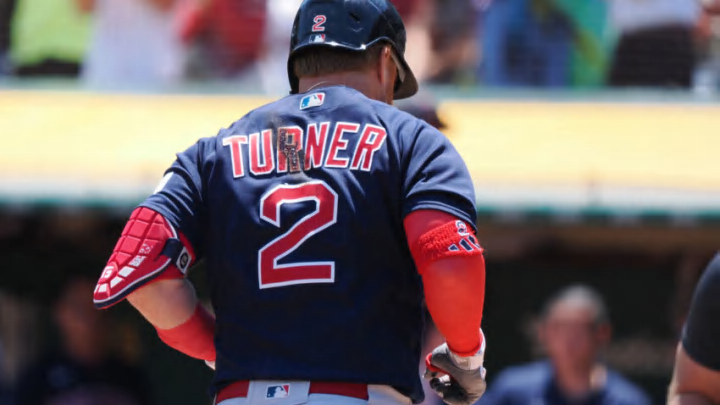 Jul 19, 2023; Oakland, California, USA; Boston Red Sox first baseman Justin Turner (2) on a two-run home run against the Oakland Athletics during the first inning at Oakland-Alameda County Coliseum. Mandatory Credit: Kelley L Cox-USA TODAY Sports /
Refusing to trade Justin Turner at the deadline was a clear indication that the Boston Red Sox expect him to accept his player option, and expect him to contribute in a meaningful way in his age-39 season in 2024. It's also becoming increasingly clear to all but the most optimistic Red Sox fans that a postseason run is not in the cards in 2023.
So let's stop messing around with Turner's health, stop taking playing time away from younger guys, and just put turner on the IL already.
Justin Turner Injury
Turner is on the shelf on Tuesday, and there's a decent chance he doesn't play at all in this series against the Royals. This comes after missing two games in the Blue Jays series and then being back in the lineup for three games.
We do not need Turner on the field this badly. Just let the man get healthy.
I know a bruised heel isn't exactly the kind of injury that you're risking exasperating, but injuries don't exist in a vacuum and overcompensating for the pain can totally cause other potential injury issues. And if we're potentially going to be paying him $13.4 million next season, I'd really prefer he be entirely healthy. There's just no need to risk it.
Keeping turner on the shelf can also mean we have more room to get looks for young guys. This isn't a top priority yet with the playoffs still technically a possibility, but it will become increasingly important down the stretch if we don't immediately go on a spectacular run.
Turner's also not likely going to be the make-or-break factor on whether we do go on a run like that. He's fourth on the team in WAR, yes, but if losing your 1.6 WAR guy for a few extra games is the difference between making or missing the playoffs, do you really think it's going to be a fun playoff run?
I'm also not saying the Red Sox need to immediately go into full give-up mode on the season. Frankly, after missing the opportunity to sell at the deadline, there aren't many give-up moves that would be overly beneficial.
But the potential downside of continuing to play Turner off-and-on through this injury just isn't worth it.
With or without Turner in the lineup, if you're looking to bet on the Red Sox down the stretch you'll want to do it on Caesars Sportsbook. Their new user promo offers up to $1,250 back in bonuses if you first bet doesn't win. So if you wager $50 on the Red Sox and we lose, you'll automatically receive a full $50 bonus. To unlock the offer make sure you sign up through the exclusive Chowder and Champions link below and deposit at least $10 to qualify. A bonus that pays out in a loss is exactly the kind of silver lining Red Sox fans need right now.