New England Patriots: Tom Brady going to the Raiders isn't so crazy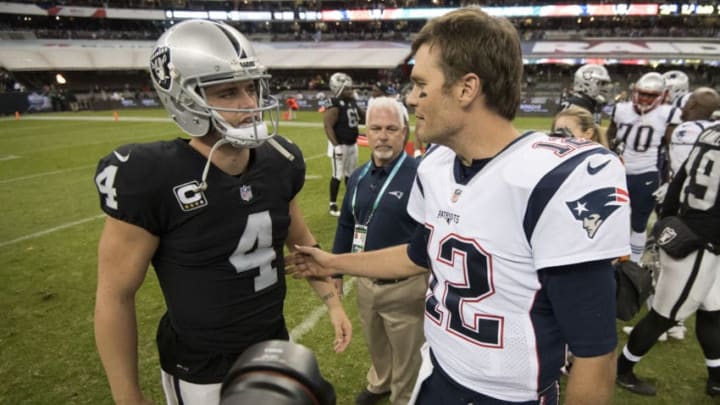 MEXICO CITY, MEXICO - NOVEMBER 19: Tom Brady #12 of the New England Patriots and Derek Carr #4 of the Oakland Raiders shake hands after the game at Estadio Azteca on November 19, 2017 in Mexico City, Mexico. (Photo by Jamie Schwaberow/Getty Images) /
Tom Brady leaving the New England Patriots in free agency and joining the soon to be Las Vegas Raiders isn't as crazy of an idea as many people may think.
With Tom Brady pending free agency from the New England Patriots looming around the NFL, it does draw a certain intrigue for some teams around the league. One team in particular being the Oakland Raiders (Las Vegas Raiders). Should Derek Carr feel threatened by Tom Brady?
Heading into his incredible twenty-first year in the NFL, Tom Brady has formed relationships and acquaintances with many players, owners, and organizations during his impressive and successful career. That includes the Davis family, Jon Gruden, and the Oakland Raiders.
The 2001 AFC Divisional Game between the New England Patriots and Oakland Raiders has many entities. People may refer to it as the "Snow Bowl Game" or the "Tuck Rule Game", but Jon Gruden thinks of it as the game that Brady denied his chances of making it to the Super Bowl and lost him his job.
More from Chowder and Champions
""For my [Raiders] career to end on that night in New England, it still ticks me off. I'm so thrilled to be back here. I hope people understand the emotion inside of me. I feel unfinished business." – Jon Gruden, per Paul Gutierrez of ESPN"
Jon Gruden is an old school coach and won't hesitate to pull the plug when he feels something isn't going right. Meaning if Gruden isn't totally confident in Derek Carr he's going to make a change. With that being said, Tom Brady joining the Oakland Raiders is more than a possibility than people take account for.
Although Derek Carr is coming off one of his best seasons as a pro where he completed 70- percent of his passes, he just hasn't shown glimpses of being an elite quarterback. In his six seasons in the NFL, Carr has started every game since his rookie year and has never led his team to the playoffs. I don't see that sitting easy with Jon Gruden.
So let's flirt with the idea.
To start, the Oakland Raiders have the money and the cap space. If Brady is looking for one last big payday in the NFL, he's going to have to move on from the New England Patriots. The black and silver are going to have around $84.5 million in additional cap space for 2020. That's an enticing number for Brady to consider on his free agent tour.
In comparison to the New England Patriots, the Oakland Raiders have more weapons on their roster. Brady would thrive behind the rebuilt O-line of the Raiders, a running back in Josh Jacobs who was the offensive Rookie of the Year in 2019, and with an elite caliber tight end in Darren Waller.
If all of that isn't exciting enough for Brady, the Raiders also have a boat load of draft picks this year, including two in the first-round. If handled properly, the Raiders could be on the verge of becoming legitimate competition in the NFL.
Not to mention the Raiders will be moving to Las Vegas next season, becoming the first NFL team in the city. There will be a brand new stadium and team to introduce not only to Las Vegas, but to the NFL as well. And who better to make that representation than the greatest quarterback of all time, Tom Brady?
The business plan for the Raiders is simple. Bringing in Brady will automatically raise the popularity of the team, which in turn will bring in more revenue, all while winning games and making the fans happy. It also increases the chances of being a landing spot for other potential free agent. It seems like a win-win situation for everyone involved.
To top it all off, Brady and Mark Davis were seen talking and smiling at UFC 246 which happened to be in Las Vegas. There's already a bunch of speculation as to what they could have been talking about upon Brady's pending free agency. But one I haven't heard yet is maybe they were just reminiscing over the aforementioned "Tuck Rule Game".
Needless to say, Tom Brady will have options this spring and the New England Patriots need to be prepared for whatever the outcome may be.